Verity Edgecombe Photography
Kingsbrook Estate Weddings
Kingsbrook Estate Weddings
Kingsbrook is one of South Australia's prime estates and the perfect venue for an elegant French country-style wedding. Only an hours drive from the Adelaide CBD through the gorgeous valleys and hills, Kingsbrook, behind large hedges and stone walls, is perfect for a secluded private wedding of your dreams!
Wedding Ceremonies at Kingsbrook
Wedding ceremonies can be on the lawns near the old bridge at the side of Kingsbrook Estate. The elegant stone pavilion is begging to be decorated with flowers and leaves, ribbons, bunting or whatever you like, or you can choose to leave it as is. The marriage celebrant and the bride and groom can stand in this structure, or you can stand just outside the pavilion with your bridal party. The gum trees help shade the guests.
Wedding Photos at Kingsbrook
With an old bridge, a large vineyard, blossoming trees, elegant steps, two homestead stone arches and sweeping lawns, Kingsbrook must have the most versatile areas for wedding photography in town! The owner is very laid back and happy for photos to be taken around the Estate as long as the property is respected.
Many of the lovely features of Kingsbrook have been imported from Europe by owner and designer Chris.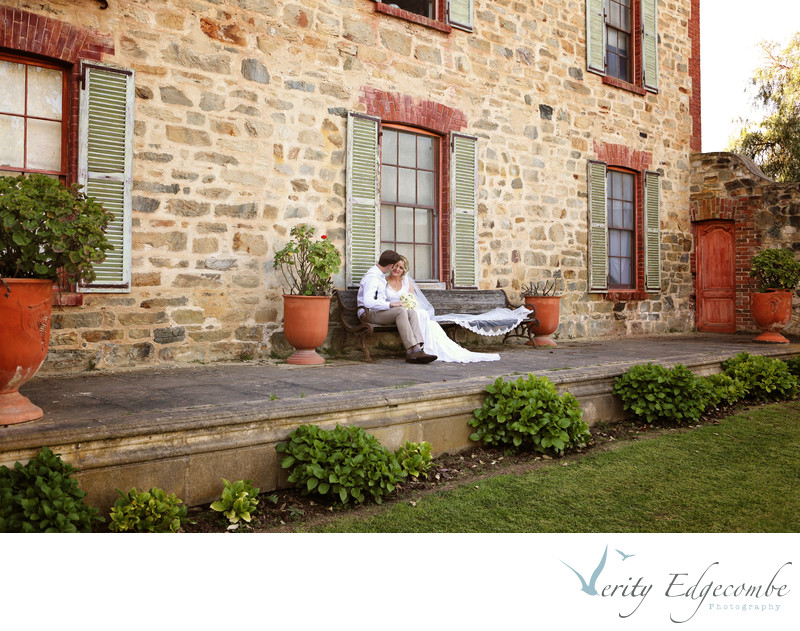 Long garden chair against the stone wall of Kingsbrook Estates Homestead
Cocktail Hour
Cocktail hour can be enjoyed on the lawns alongside the Homestead at Kingsbrook. Outdoor receptions can be held here too. This photo was taken on the wall of the Estate, giving a great birds-eye view of the wedding fun.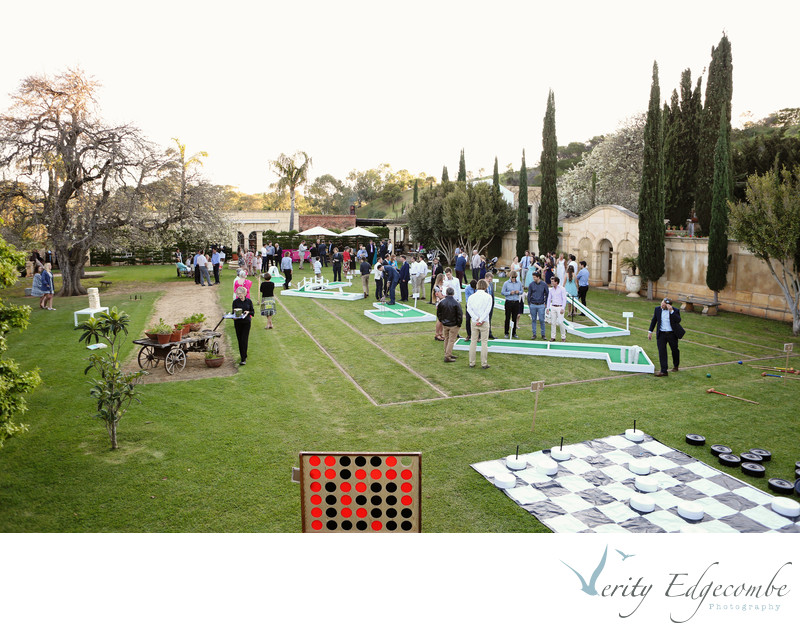 Mini golf and games on the lawns of Kingsbrook Estate
Receptions at Kingsbrook Estate
There are three places where you can have your wedding reception.
1. The lawns make a lovely outdoor reception venue.
2. The lovely Orangerie is excellent for ceremony or reception. Some couples choose to have the Orangerie booked in case it ends up being a rainy wedding day for their planned outdoor ceremony - this takes the stress out of what to do if it rains.
3. The grand Marquee near the stone pavilion is permanently set up and can be decorated beautifully inside to make a top wedding reception venue.
Accommodation
To top it off, Kingsbrook also has the Coach House with four rooms for you and the bridal party to stay in before the wedding day or maybe even the night of the wedding. Beautifully presented and looking over vineyards on one side and the lawns on the other, this accommodation is unique. An antique wooden french staircase is just one of its many attractive features.
Wedding Venue: Kingsbrook Estate
2866 Alexandrina Road, Currency Creek
Phone +618 8555 4007



Location: 2866 Alexandrina Road, Currency Creek, South Australia.