Verity Edgecombe Photography
Relaxed Wedding Photographer
Relaxed Wedding Photographer Adelaide
Finding a relaxed wedding photographer for your Adelaide or Adelaide Hills wedding is important. Someone you feel has got this for you, with no stress.
Let's face it, wedding days are one of the happiest days of your life when you are marrying the love of your life, so you want your photographer to be someone who has enough know-how and experience to capture your happy day just as it is. But, unfortunately, even with all the planning that goes into weddings, something invariable goes haywire, or the timing doesn't quite work as you had hoped. So a flexible photographer is crucial.
My strategy for keeping your wedding relaxed.
As an Adelaide photographer based in the Adelaide Hills, I visit the wedding venue before the day, so I have a good idea of the layout. I know where you will walk down the aisle, stand during the ceremony and the best spots for the photos. This helps the day go without a hitch as far as your photos go and saves time on the day.
During your official photo time, I place you in a lovely spot, generally with beautiful light, and then let you relax and enjoy time together while photographing your interaction. I might suggest you put your hand in your pocket or adjust the veil so it falls neatly on your shoulder, but you won't feel like I'm in your face or micromanaging the photos. The photos will show the real you and your love for each other.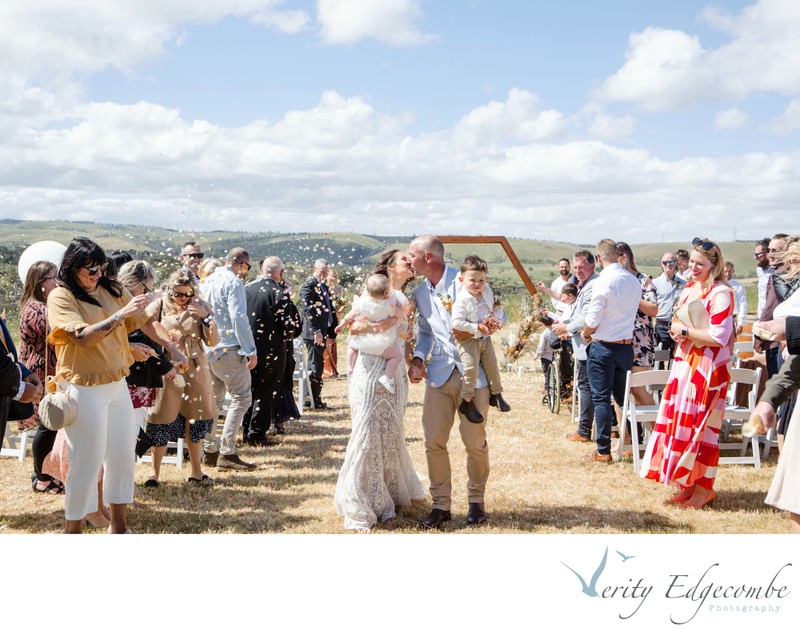 Romantic Intimate Wedding
This intimate wedding was on the couple's Adelaide Hills property. Overlooking mountains and countryside, it couldn't have been more beautiful! They scooped up their children on the way through and were showered with rose petals from the guests. I often suggest couples kiss each other on the way back down the aisle to add some extra romance to the occasion! I love it when everyone claps in delight!
I have a
package
for intimate weddings that might suit you. Send me a
message
to see if I am available on your wedding date.
Wedding, Family and Product Photographer based in the Adelaide Hills
0409 995 035 - verity@verityedgecombephotography.com.au - Copyright 2023
Location: Harrogate, South Australia.