Best Woodstock Wine Wedding Photographer
Woodstock Wine Estate Weddings
Woodstock Wine Estate in McLaren Vale was the venue Scott and Maddy chose for their nuptials and it made for such a country, rustic, vintage vibe kind of day! With its tall gums, rustic native bushland and rows of lush vineyards Woodstock has lots of variety when it comes to choosing top spots for wedding photos. They chose to have a sit down, indoor reception. This room is long, with long straight tables. Floor to ceiling windows gave the guests the beautiful view of outside where ever they were seated. The food was really good!
Wedding Preparations
Maddy's wedding preparations were at her family home in McLaren Vale. Her Dad is a green thumb, cultivated by generations of hard working gardeners, so it wasn't surprising to see the roses looking pretty spectacular for photos in the garden!
Maddy chose a delicate, vintage bridal gown and the bridesmaids all chose their own dresses with a similar style, all being antique white giving the whole day an ethereal look. Soft curls completed Maddy's look and as she walked down the aisle at Woodstock Wine's with her Australian native bouquet, we all thought Maddy's true character shone - beautiful inside and out!
As Scott, the groom, lives in Sydney, New South Wales, there were many interstate guests who were able to enjoy with the locals the treasure of McLaren Vales. There were many beautiful moments with family and friends which we were able to capture. Notably was Scott's ageing Grandpa who gave such an awesome cheer from his chair in the large group photo as Maddy and Scott gave the traditional kiss for the camera!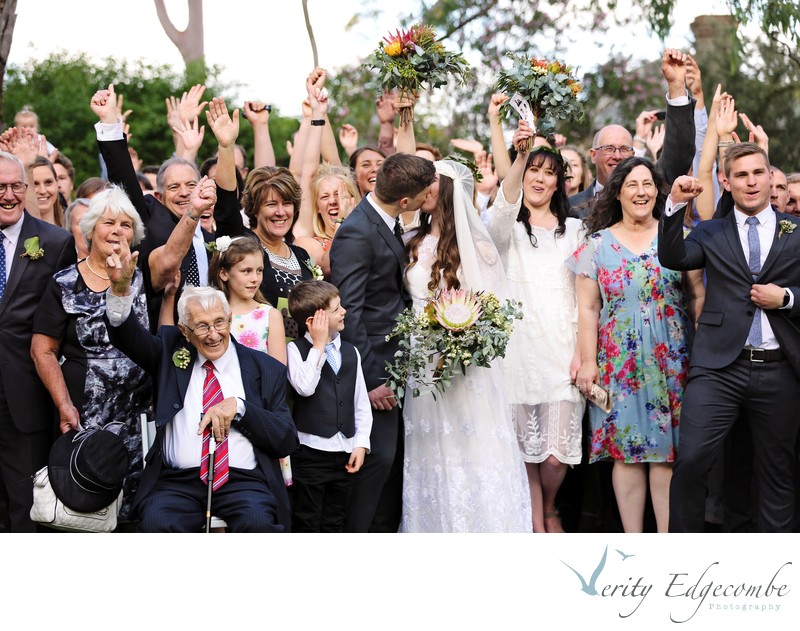 capturing the moments at this Woodstock Wines wedding
A sparkler send off was a great way to end a fabulous day!
If you want to find out more about Woodstock Wines contact them on (08) 8383 0156 or
https://woodstockwine.com.au/
If you would like a wedding photographer for your special day ring Verity on 0409 995035 or send an email www.verityedgecombephotography.com.au/contact
Location: 215 Douglas Gully Road, McLaren Flat, South Australia.