Creative Adelaide Hills Wedding Photographers
Verity Edgecombe Photography is a creative, relaxed Adelaide Hills wedding photographer who creates unique images with a beautiful use of light.

The Wedding Ceremony
This bride spent lots of her childhood enjoying the country farm life at her Uncle Russell and Auntie Jodie's farm. Having such good memories meant it was a no brainer to have her wedding ceremony looking over the valley of their cattle farm. The cows were coerced up to the top of the paddock with some juicy lucerne hay and irrigated greener pasture! They were very placid cows and just kept on the fringes during the 'I do's' and the afternoon tea.
The Bridal Gown
Ricky and Jeshy had a copper wedding arch for their ceremony with beautiful floral arrangements in the corners. This worked well with the colour tones of the wedding as Jeshy had a soft apricot lace skirt for her bridal gown. This dress was made by her Mum and Grandma. Jeshy had tried lots of dresses on but nothing quite suited her to perfection. She had always enjoyed wearing gorgeous dresses, being a girly girl but really wanted three quarter length sleeves! Her Mum suggested she could sew the dress using some beautiful lace she had saved for 'a special occasion'. This suited Jeshy perfectly! The fitted bodice is actually a cute little party dress as the full skirt if removeable!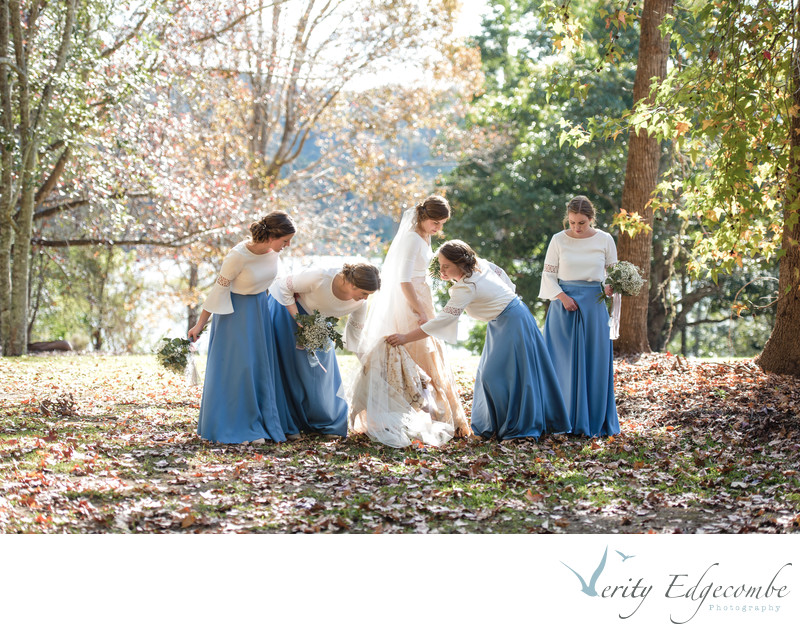 The bridesmaids adjusting the bride's train during the official photo session before the ceremony
Wedding Timetable
This lovely couple wanted to spend maximum time with their guests after the ceremony so opted for a First Look. The First Look is the bride and groom seeing each other before the ceremony in a quiet place where it's just the two of them.
There was plenty of time for bridal party photos as well as bride and groom photos with a really relaxed atmosphere.
Contact Verity for more information about her approach to wedding days.