Elopement or Intimate Wedding Photographer
Elopement or Intimate Wedding Photographer
Many couples choose to elope or have an intimate wedding with only a handful of guests. These weddings are exceptional and full of happiness and romance.
There were only about 50 guests at the wedding of this Adelaide Hills couple. They were married on their property overlooking hills and countryside for as far as we could see. They had built a large shed and made a grassed area to accommodate the guests and the caterers.
Tents were set up for guests who wanted to stay after the celebrations, and there was a special tent for the bride and groom to enjoy their first night as husband and wife.
When I photograph intimate weddings, I try and get around to each guest and make sure I get a photo or two of them, either with their partner, friend or by themselves. For those who ask, I give them my card and ask them to contact me to have a complimentary digital copy of their photos. As the wedding couple, if you would like to print photos of the guests yourself to send out, let me know, and I won't spoil your surprise by sending out digital copies before you have sent out their prints.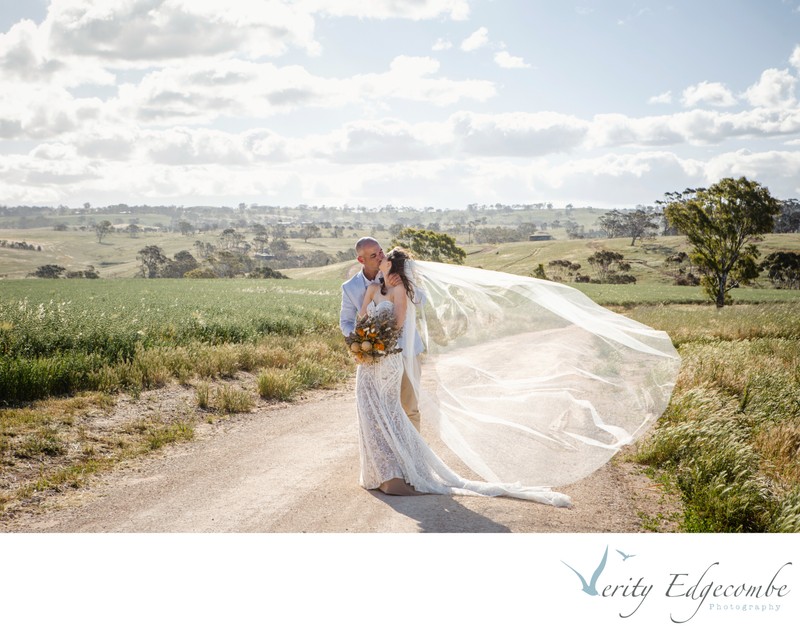 For other photos of this lovely, relaxed wedding, see here.
Wow... you are amazingly talented!
We cannot thank you enough for beautifully capturing our special day. You were an absolute pleasure to work with and made us feel so comfortable. We couldn't be happier with the finished product!
With all our love Mallory and Ricky

If you are eloping or having an intimate wedding, contact me for details.
Wedding, Family and Product Photographer based in the Adelaide Hills
0409 995 035 - verity@verityedgecombephotography.com.au - Copyright 2022
Location: Harrogate, South Australia.