Tips for Rainy Wedding Days




Will rain ruin your wedding day - or make it extra-special? It all comes down to preparation and attitude.
Attitude
Maya Angelou once said, "I've learned that you can tell a lot about a person by the way s/he handles these three things: a rainy day, lost luggage, and tangled Christmas tree lights!"
I know a little about lost luggage and tangled Christmas tree lights, but I know a lot about couples who have rainy wedding days. If you have a wet wedding day, the BEST thing to do is embrace it! Enjoy it! Bask in it! You set the tone of the day, so make it a happy one! It may not be everything you wished for, but there are lots of great things to enjoy about it.
Every single wedding I have photographed has had something that hasn't gone to plan. It's those couples who handle the challenges well that have the happiest memories! Truly!
So what should you do to make the most of it?
Drizzled most of this couples wedding day. The groom is from the UK so it felt just like home to him!
Make a Wet Weather Plan
Be aware that outdoor weddings come with that little bit of weather risk, and be prepared. Have a wet weather plan. Line up some wet weather options in advance. Ask a close friend to be a wet weather coordinator - they can marshal the guests to roll their sleeves up and bring audio equipment, lights, chairs, decorations, etc into a marquee or under a verandah when the first drops begin to fall.
Being prepared will take all the stress out of the door - you just need to work the plan.
Prepare To Change Plans
If the unexpected happens, don't feel obliged to stick to the original plan - as one friend put it, "just go with the flow!" (ha!) An experienced photographer will help you to grab some great journalistic photos where and when you can. You might have to spend a few minutes during your reception getting a few portraits, but it's nice to sneak a few minutes away from the spotlight enjoying the newly married vibe.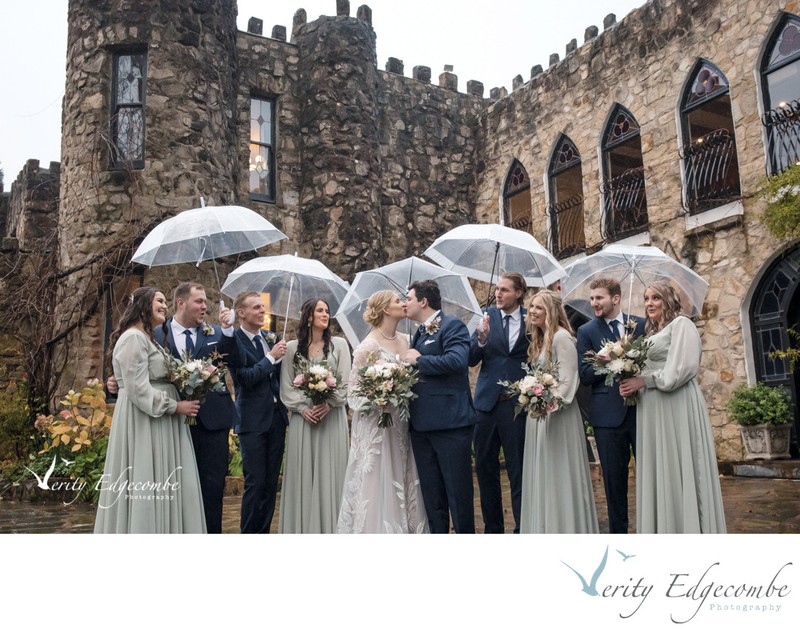 Rain-Proof Ponchos, Umbrellas, Gum Boots - and Towels
Warm shawls or ponchos can help keep you dry and warm. How about investing in some for you and your bridesmaids.
Umbrellas can be inexpensive, so get enough to keep all your bridal party dry (ish).
Having see-through umbrellas is ideal because they allow more light on your face, and the background shows through, adding to the atmosphere - like the photo above.
Some couples with outdoor weddings provide a box of umbrellas for all their guests. You can sell the umbrellas after the wedding day on any second-hand wedding supplies site, so you can recycle and get your money back.
Have you considered wearing gumboots for your rainy wedding day? I know, it sounds tacky, but it doesn't have to be if you get some classy numbers!
Most importantly, bring a big box of towels to wipe faces, suits, dry off shoes, bench seats, etc.
Hair Dryer and Curler or Straightener
Pop a hair dryer and curler or straightener into the boot of your car to do touch-ups! As a photographer, I always pop a hair dryer and curler in my car on rainy wedding days. For this wedding, we dried the groom's jacket with my dryer and curled the bride's little side curls in the clubrooms during the substantial rain period when we couldn't go outside.
Blankets and Heaters
Everybody copes a whole lot better when they're warm and dry. Don't forget older guests who may have arthritis or struggle with the cold. Provide a basket of throw rugs or blankets people can help themselves to. Ensure there are enough heaters at the venues to keep guests comfortable. You want everyone to enjoy your wedding day.
Coffee Van
If you are having your official photos at a different venue to your reception, why don't you organise a coffee van so everyone can warm up on coffees and hot chocolates? One couple also had a clever friend bring homemade gourmet sweet treats for everyone. He served them with a smile and helped coordinate the hot drinks too. Everyone loved this touch of thoughtfulness, and it helped everybody to embrace the elements.
Enough already! What about all the many beautiful pluses of a rainy day?
A Romantic Mood
There's nothing like rain to create a classic romantic mood which will give your photographs great atmosphere and a touch of mystery. The shadows disappear, the colours are more saturated, skin tones are more even.
Rain in the Air, Rain on the Glass
The rain itself becomes part of the story. Your photos will have a light dusting of rain in the air. There will be raindrops on flowers, on umbrellas, on car windows, all beautiful in their own way, all part of the magic of your day.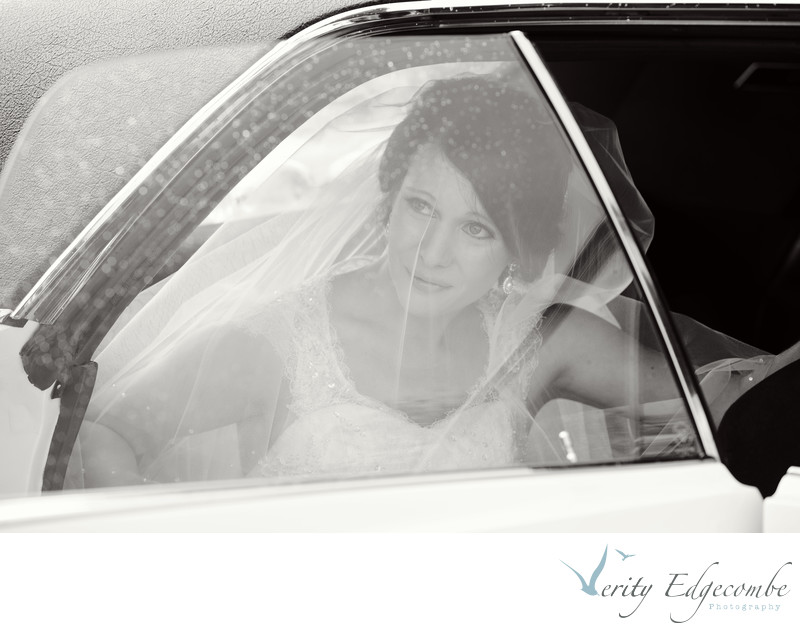 Rainy Ceremony at Gomersal Winery
Rainbows and Storm Clouds
You have to have rain to get a rainbow! How awesome is it to have a rainbow on your wedding day! If you see one, catch it in a photo as quick as you can because they are gone as quickly as they come! And storm clouds can add drama to the skies.
Storm clouds at a Gomersal Winery Wedding

Reflections
"When life gives you a rainy day, play in the puddles" - I love using puddles to photograph couples in the reflection. You get unique photos that tell the story of the day.
Mist
On rainy days in the Adelaide Hills a mist often comes over in the late afternoon and makes for the most beautiful, romantic photos ever! Find the spot and make pretty pictures!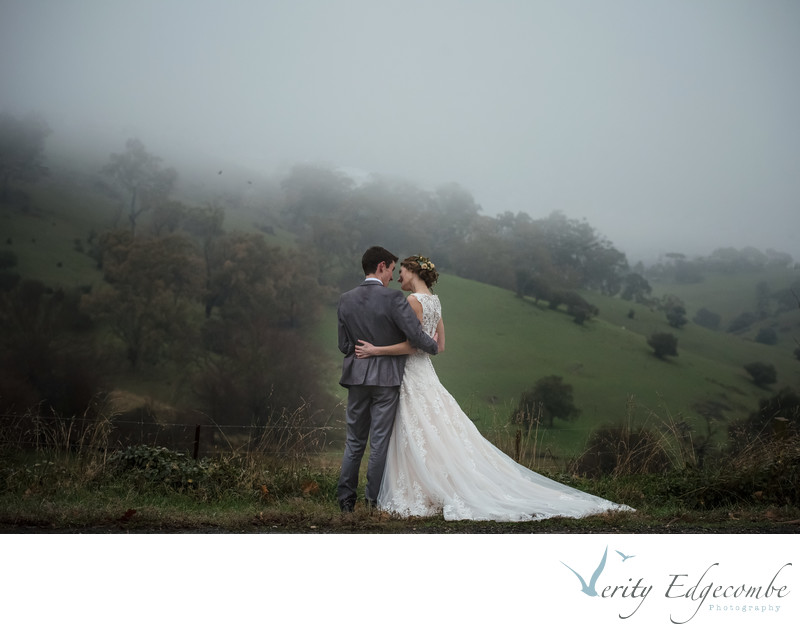 Beautiful, romantic, photos in the mist overlooking the Adelaide Hills
Story to Tell
Everyone wants a story to tell, and everyone will remember your wedding day for how wet it was - and how fabulous it was! Rainy weddings are not common, so your photographs will be distinctive and memorable.
Go on, love it, put things in place, so all your guests enjoy it too!
Here's what a bride wrote to me 6 weeks after her very wet and windy wedding day:
"I just have to tell you that I look at our wedding photos just about every day and I LOVE them so much thank you!! They make me feel so happy every time I remember our wedding day because you captured everything so perfectly". Sarah
Venue: Highercombe Golf Club, Paracombe
Photographer: Verity Edgecombe Photography
www.verityedgecombephotography.com.au
In the unlikely event that it pours with rain for your whole wedding day, I include the option of having some official couple photos within a month of your wedding day - at no extra charge! Having this option will mean that you can completely relax on your big day and spend time with your guests and still get beautiful photos!
Wedding, Family and Product Photographer based in the Adelaide Hills - 0409 995 035 - verity@verityedgecombephotography.com.au - Copyright 2023
Tips for Rainy Wedding Days