Verity Edgecombe Photography Family Photos
Verity Edgecombe Photography is a family and wedding photographer based in the Adelaide Hills. Having four children and coming from a large family myself, I take an easy-going approach to the photo session, getting some classic family portraits and giving the children time to have fun with you and each other. Hence, we get those real and happy family vibes that you want to remember for years to come.


Pricing
My pricing is structured so that you can design a package to suit you. You may like an at-home session with your trikes and toys, piano and popcorn. You will get classic, timeless photographs of everyday moments that tell the story of your family at that stage of your lives. You can print the images and create a wall collage or have a beautiful boutique-quality album made with your favourites. If you would like journalistic, lifestyle type family photos with you all just doing your thing around the house and garden, then you can create a package that captures lots of everyday moments while you have time to relax completely and have fun.
My prices start at $399 for an hour's photo session, and include an online gallery of full resolution images that you can download and print as you wish.
Extended family photos
You may want to celebrate a big milestone like your Mum's 60th or your brother's 40th. Maybe your extended family will all be in Adelaide for a week - book in for extended family photos! You will get portraits of each person or couple, small family group photos, the large extended family photos and anything else you would like. Some people like 'three generation' photos or Dad and his boy's photos. You list it...we will get it!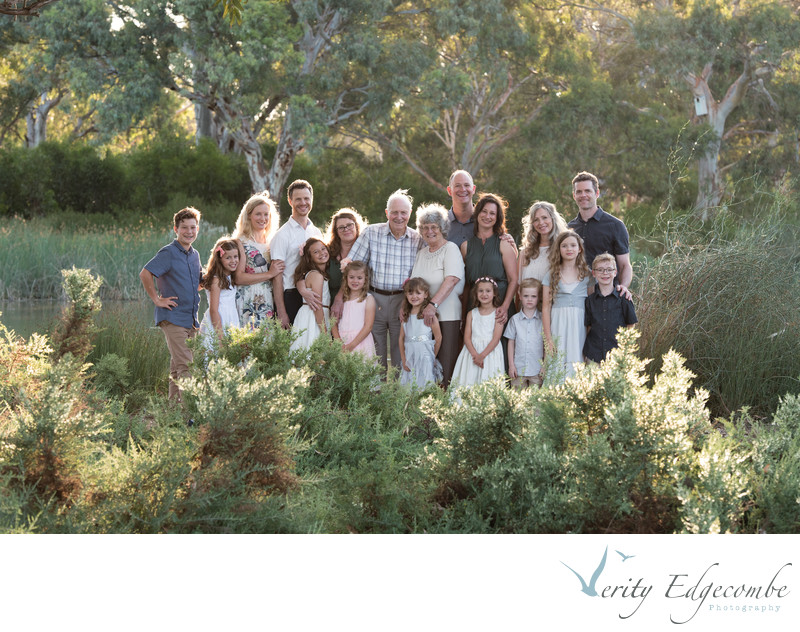 After your photo session
All your family photos will be delivered via an online gallery so that you can share the link with others. They will be high-resolution images so you can download and print as you like. If you would prefer I order the photos, I am more than happy to help you out. Printing will be done at Adelaide's leading photo laboratory with quality paper and excellent colour. Framing, canvases and albums are also available.

Contact us
To hear more about my approach to family photos click here or contact me here for my family packages that are affordable without compromising on quality.
Review
Here's a message I received from one family recently. I have photographed their engagement, their wedding and now their baby!
"Once again you've managed to capture crystallised elements of continuity, instants of flowing emotions, each photo expanding in time with its own light. There is a sense of authenticity, a genuine quality that invites without pretence, and details that unveil gently, a true representation of a story. Soothing light bathes every scene, yet life is highlighted in its vibrancy. Thanks for capturing us and our essence."

Alex and Allira and their princess
Adelaide Photographer based in the Adelaide Hills - 0409 995 035 - verity@verityedgecombephotography.com.au - Copyright 2020