WEDDINGS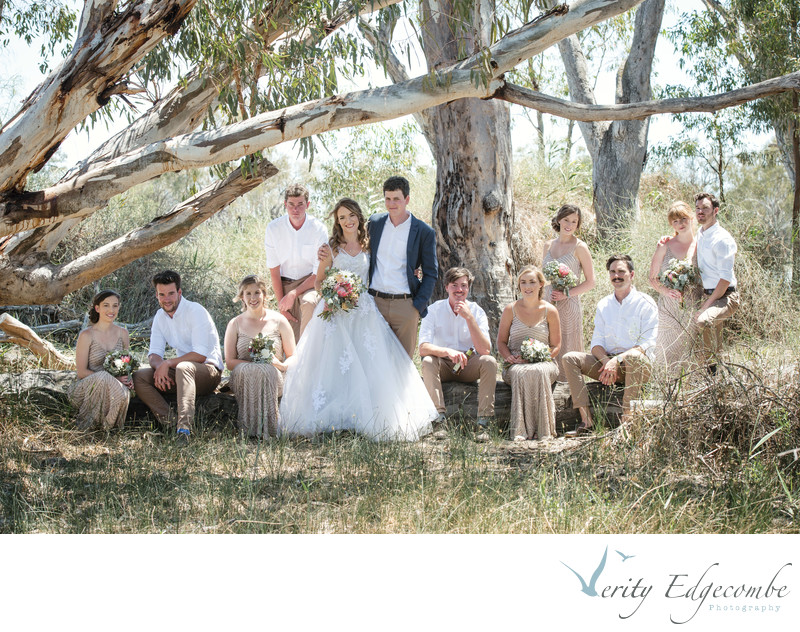 I'm Verity Edgecombe, an Adelaide Hills-based wedding photographer.
I'll capture all your wedding day, down to the details, in a way that tells the story of the day, so that you remember how you felt on your wedding day (not just how you looked).
You will be able to look back at your photos in years to come and remember all the emotions you felt. You will be able to sense the guests' excitement and the wedding party, hear the laughter and the applause, feel the warmth of the sun and re-wipe away those happy tears!
Not just another wedding
Your wedding is special, so I will check out your venues beforehand and tailor your images to your look, theme, and tone. It's not just another wedding day to me, ever.
Just about anything can happen on your wedding day. I will stay calm and composed under any stress and work tirelessly to create beautiful images under any circumstances.
If you don't believe me here's what one couple said on the wettest and coldest day we have photographed:
"Verity and Mel are absolutely incredible! Despite the freezing cold and wet weather on our wedding day, they were always smiling, and nothing was too hard. They went above and beyond, and the photos are stunning! The biggest appreciative, thank you." JP and Sarah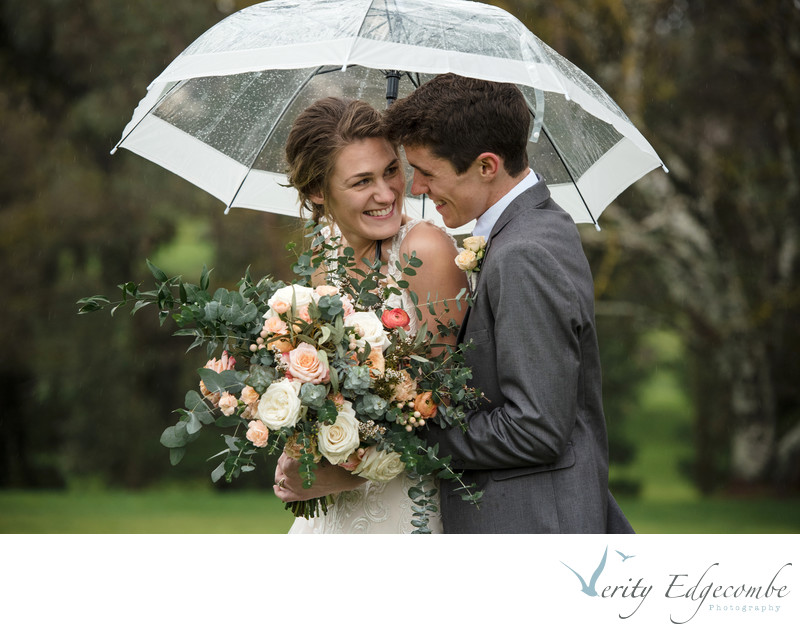 all smiles on this wet and cold wedding day!
If it ends up raining through the whole portrait time available on the day, I offer to do a free 60-minute post-wedding session! - no more need to stress about the weather!
Your wedding photos
Being yourselves and enjoying the day is everything to me – During the 'portrait' time (for want of a better word), we put you in the best light and then let the moments unfold.
I'll keep the day relaxed and enjoyable and use my experience to give you gentle, low-stress direction when needed. If you normally feel awkward in front of my camera, I'll help you relax and enjoy the moment. I'll give you fun and romantic things to do so you're not just standing there wondering. My goal is to help you forget I'm there by using a longer lens, so we aren't in your face.
I give clear direction for family and group photos, so people know what they need to do to make it happen in an efficient, calm and friendly way. You will love how easy the family photos are, AND you will get beautiful photos in a lovely light with a decent background!
I will ask you what you do or don't want - if you want photos included in your portfolio where you are small in a big expanse of field or mountains, you will get that. Even in the suburbs of Adelaide, I will spend as much time as needed before your wedding day to find you a spot, so you get the look you want.
Love a photo you've seen on Pinterest or Instagram, and wonder if you could have that? - we don't copy other people's photos, but we will use that photo to get inspiration to create a photo unique to you.
The only thing we can't do is make it look like you had a beach wedding when you really had an Adelaide Hills wedding! Having said that, book us for an hour after your wedding day for some beach wedding photos! Everything is possible!!
Reliable and Unobtrusive Photographer
I am reliable and dedicated and never have a "near enough is good enough" attitude to your day or images.
Renowned for being unobtrusive, I aim to get the photos you want without getting in the guest's way of making you feel like the paparazzi is there!
Second Photographer
As there is often lots happening at the same time at weddings I have a second photographer, and we are often in two different places - for example, she will photograph from the back of the aisle, while I photograph from the front, or she will photograph your guests having afternoon tea while I do the family photos. I have the same second photographer, Mel, at almost every wedding. She is fabulous! She is across everything. The last wedding the groom had recently had a knee operation. He needed some Nurofen, but his tablets were 5 minutes walk away. No problems - Mel opened her bag, pulled out Nurofen and the water to take with it! She's like that.
Editing your photos
Your images will be edited, so they are timeless, vibrant and reflect how the day was. Each authentic image will be crisp and clean, reflecting the true colours of the day, with rich blacks that help your images stay modern and beautiful. Care is taken to each image we give you.
Uploading your portfolio onto an online gallery gives you the option of quick access via your phone or computer and a link to share some or all of your photos with your family and friends. This gallery will be available within 4 weeks of your wedding day and available to you for 2 years. It has lots of features including the ability to pick your favourites and download photos onto your phone. Of course, you get all your photos as digital full resolution images too so you can keep them all for your lifetime.


Elopements or Intimate Weddings
A lot of couples, especially due to Covid 19, are having elopement styled or intimate weddings. I offer a photography package for elopement and intimate weddings. I normally arrive just before the ceremony is about to start, photograph the ceremony, family photos, an hour or so of bride and groom photos and anything in between. As with all my packages, you can create your own to suit your style. I don't have a second photographer at elopement weddings, but I will have an assistant to help keep things run smoothly and hold the off-camera flash if needs be. Having said that, if you want a second photographer...well...we can do that too!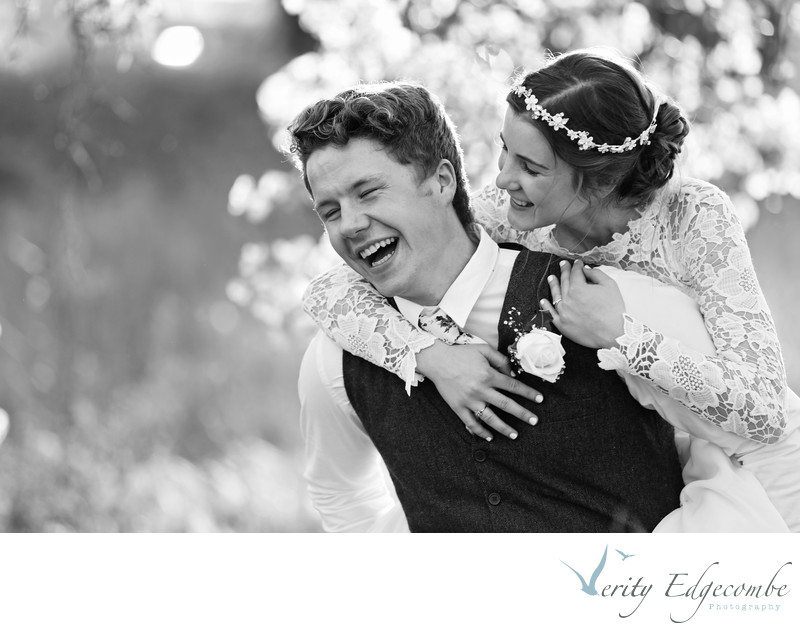 Pricing

My pricing structure is made in such a way you can choose whatever you like in your
package. I am affordable but don't compromise on quality. All packages include a gallery of downloadable, full-resolution photos that you can print as you like. My prices start at $2195 for 6-hour wedding coverage and include a second photographer and full-resolution photos.
If you want a package for an elopement or short wedding, then I have that covered. Prices for an hour and a half and full-resolution photos start at $799.
I will always try to exceed your high expectations!
Wedding venue
I have photographed weddings across Australia and several overseas but my focus is on weddings within Adelaide, the Adelaide Hills and Fleurieu. I visit all wedding venues before your wedding day so I'm across the whole layout and know where you are having the ceremony and reception. I will find the best spots for photos depending on the time of year. Even if I have photographed at a venue before, I still visit the venue beforehand. Things change and I like to be up to date and also create unique photos just for you.
The venue's I have photographed at include, Ayers House, Adelaide Botanic Gardens, Al Ru Farm, Anderson Hill, Barn 1890, Barrister's Block, Barton Vale House, Beaumont House, Bremer Farm, Bird in the Hand, Bridgewater Mill, Carlew, Chateau Tanunda, Cruising Yacht Club of SA, Festival Theatre, Glen Ewin Estate, Glenelg Golf Club, Golding Winery, Gomersal Wines, Hahndorf Convention Centre, The Haus, Highercombe Golf Club, Inglewood Inn, K1 Wines, Karrawatta Wines, Kingsbrook Estate, Kuitpo Forest, Kuitpo Hall, Littlewood Agapanthus Farm, Longview Wines, Magpie Springs Winery, Maximilians, Mount Lofty House, Mount Lofty Vineyards, Mount Osmond Golf Club, One Paddock Currency Creek, The Manor, The Old Mill, Pavilion on the Park, Pike and Joyce, Serafino Wines, Sfera's, Silvestri's of Clarendon, Stangate House, Sunnybrae Estate, Villa Vineyards, The Wine Centre, Woodstock Winery, Yahtalia Manor and many private residence in the Adelaide Hills, Barossa, Adelaide, Fleurieu Peninsula, Riverland, interstate and overseas.
Videographer
I have worked with many videographers. If you want beautiful videos and an easy going, honest person behind the machine, you might like to contact Mitchelson Films.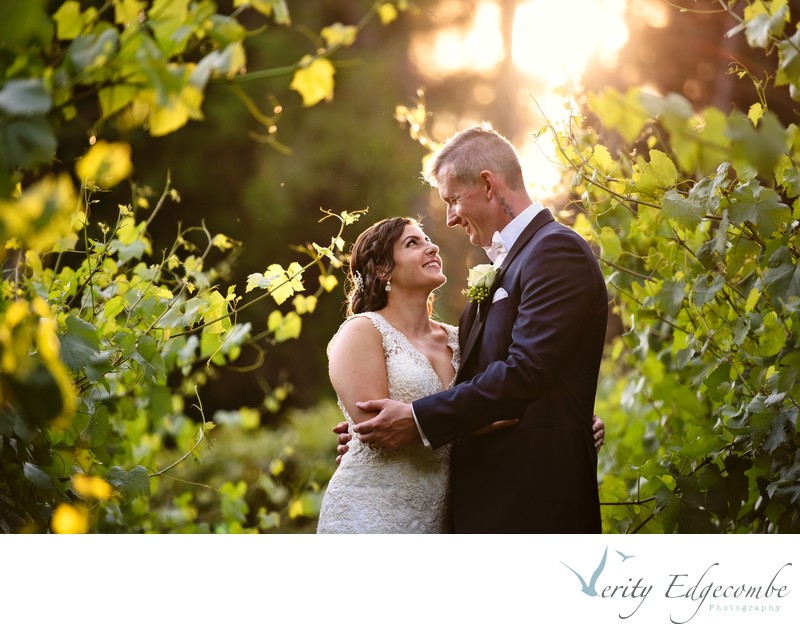 Adelaide Photographer based in the Adelaide Hills
Copyright 2021