Tips For a Relaxed Wedding Day
How To Have A Relaxed, Stress-Free Wedding Day
Staying calm and having a stress-free wedding day is what every bride would love to do, but it's not always that easy, so here are some tips to help get organised and stay relaxed!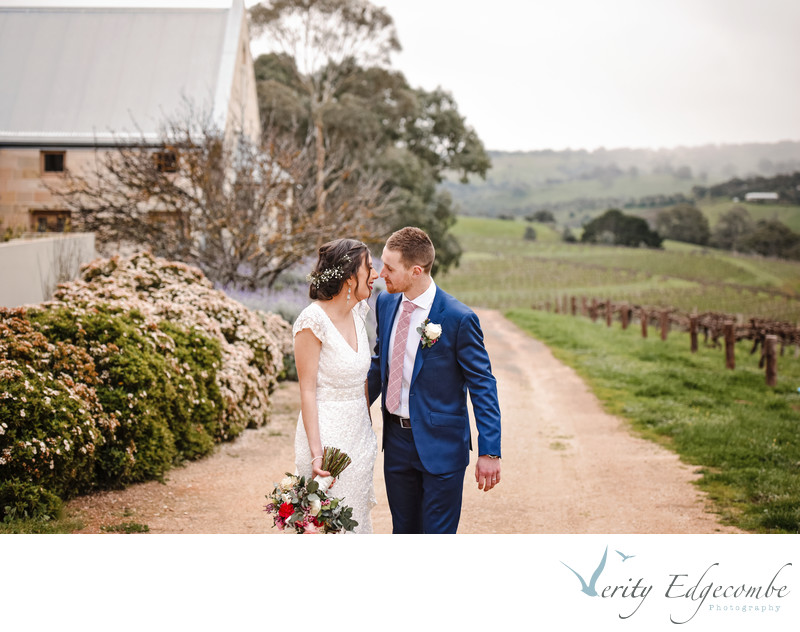 This couple had a well-organised Silvestri's of Clarendon Wedding Day.
1. Allow Plenty of Time to Plan and Get Organised
You may think that you need two years before you get married to organise everything? Sure! That could work for you. It would mean that you are almost sure to get the wedding venue you always wanted, the photographer you dreamed of having and the florist that suits your vision perfectly - and have plenty of time to pay for a pretty splashy honeymoon! However, it could mean that you organise your wedding day several times because you have to follow things up so often.
Be a little bit careful not to get too organised! You may even find that you change your mind about the details over that time, and then you have paid deposits and made preparations that you want to change. Your bridal party have a long time to wait for your day, and sometimes it's too long, and they may find it hard to commit to a date so far in advance, especially if their education, work or relationships change in that time. Still, it works for lots of couples, so don't let me put you off!
I used to say having eight months to organise your wedding was perfect. Still, I now think you need a bit more time so you can book your venue, photographer, videographer, celebrant and church and florist (these are the six that book out well in advance) before other couples have stolen your spot! Having a year to organise your wedding is generally enough. You get a chance to visit different wedding venues and sort out the kind of vibe and catering you want for your day. You also get plenty of time to lose enough weight to fit into the princess gown but not too much time to drop the resolve!
Some wedding venues book out really early. In Adelaide and Adelaide Hills, these include,
Al Ru Farm, Mt Lofty House, Ayers House, and Glen Ewin Estate.
If you are having a weekday wedding, you have a lot more chance of getting the vendors you want with a short engagement but a little less chance of having the guests you wish to!
2. Who is Going to Help Coordinate the Day?
You may decide that a wedding coordinator is the best way to go. Wedding Coordinators can take away a lot of the stress off organising each thing, and you will have someone on the day that can help you make sure it all comes together. Not a cheap option, but it may be just what you need.
If this is not on your budget, get some ideas and support from Facebook forums to advise on their own experiences. In Adelaide, there is a FB chat called Adelaide Wedding Chit Chat that has been helpful for lots of couples planning their day.
Magazines like Hello May are also helpful but don't forget your local bridal magazines like Adelaide's 'Love Cherish Adore', which has excellent, up to date advice for your area.
There are excellent wedding planning books now too. If you have all your info in one place, then it's easy to cross-check things, make lists and keep things organised. Take photos of each page just in case the worst happens, and you lose that folder!!
If the organisation isn't your thing, ask a family member or friend to help out.
3. Consider a First Look
Some couples decide they will have what's called the 'First Look'. This means they see each other in a romantic setting before the wedding ceremony. It's not for everyone, but it may be for you if you are extremely nervous and your partner is the one that helps relax you.
Read more about First Looks here.
4. Ensure Everyone Is Well-Informed
Having a decade of experience photographing many weddings, I have found that communication is of paramount importance. Don't over-inform but try hard to keep vendors and guests informed. Have written communication both on paper and text, so people know where they need to be and what time they need to be there.
Keep it accurate and to the point like this message to George:
"Just letting you know about family photos
Venue: Mt Lofty House lawns overlooking the Summit (behind the house)
1 Mawson Drive, Crafers (same as ceremony and reception)
Time: STRAIGHT after the ceremony - 3:15 pm
You will be in three family photos immediately following the group photo.
Please have no phone visible, including in your pockets, no sunglasses or bags or drinks.
Thanks so much - I can't wait to share our day with you!
PS - if you have any questions on the day, contact Jake on XX."
Inform your chauffeurs of the address, times and details, especially if you aren't hiring cars and relying on family and friends who don't do this kind of thing each weekend! Sometimes people have gone to the wrong venue because there are two with similar names or similar street addresses. If they have the information twice, both on paper and text, then you have done your bit!! Added to this, give the important phone numbers to your coordinator so they can follow up on anything that needs to be followed up without having to worry you about the details.
5. Schedule a "Dress" Rehearsal
A dress rehearsal includes your dress, your underwear, your shoes, your veil and your jewellery. See that they all fit and look good so don't just half do up that bridal gown - do up every button. I heard of a bride who had alterations done on her dress before the wedding day and tried her dress to make sure it was right but didn't do up all the buttons. Unfortunately, the straps were too tight, and she had to get them cut off before she could have her bridal portraits. Another bride picked up her dress from the dressmakers after trying it on there and then left it on a coat hanger till her day. When she put it on, the hem had dropped because of the soft fabric, and she tripped over her dress coming down the aisle! You pretty much don't want to do that!
6. Double Check With Your Vendors
You may have paid deposits and signed contracts but just double check your vendors a week or two before the wedding.
7. Practise your Ceremony Rehearsal
You might be nervous about walking down the aisle. Don't be! Everyone is so excited to see you. Just one step after the other and focus on the one you love and take in one of the most beautiful, romantic moments of your life!
Ceremony rehearsal may help soothe the nerves.
8. Try Essential Oils
I was surprised about oils! I didn't realise how calming they could be. Try the DoTerra 'Balance' oil and have that diffusing in your house during the months leading up to your wedding day at your wedding prep venue. I asked an Adelaide Hills DoTerra rep, Sarana, and she said, "it's great for brides that are feeling a bit scattered or anxious thinking about all the wedding day plans and logistics. 'Balance' is grounding. Alternatively, the floral oils are nice and calming. 'Lavender Peace' is a beautiful calming blend. So is 'Elevation', the joyful mix".

9. Put Together a Playlist
We all know that music is therapeutic. Stanford University researchers have said that "listening to music seems to be able to change brain functioning to the same extent as medication." It triggers off chemical reactions in our brains that can have an instant positive effect on us. The Calm app is fantastic for a 30 minute unwind when you have had to make stressful decisions, things haven't gone to plan, or someone has been particularly irritating!
Think about what music you play as you are getting your hair and makeup done. You might choose upbeat music that really gives you that feel-good vibe or slow, calming music that helps you all relax.
10. Drink Plenty of Water
Drink plenty of water the day before your wedding day and encourage all your bridal party to do the same. On the day, keep your fluids up as much as possible. A kind bridesmaid or groomsmen could help remind you of this by getting you a drink or two while talking to your guests during the afternoon. Alcohol can also be relaxing, of course, but make sure you don't have a lot before the ceremony. Celebrants, by law, can't marry intoxicated people!
11. Get Eight Hours Sleep The Night Before
According to experts, having enough sleep reduces stress and improves our mood. It also helps you look fresh. I was at a wedding where the groom had crazy groomsmen who decided the night before was an excellent time to try lots of practical jokes, like tie him to a tree on one of Adelaide's main roads. He didn't sleep all night and was so tired he just wanted the wedding day to be over! This story brings me to say that if you think your bridal party might make it hard for you to sleep, work out ways that mean you aren't in the same room and can lock your door.
Being organised and not having any extra to do helps prevent restless sleep, so try and plan your days leading up to the wedding so that everything is completed by midday the day before. You will have enough time in the arvo if something crops up.
Do all things relaxing the night before. Take a deep, warm bath, have a foot massage, enjoy the night with your close friends.
If you do happen to be finding it hard to sleep, the editor of "Prevention" advice is:
"When fretful, get up and go to another part of the house (but leave the lights off). "Your anxious thoughts will usually stop right away. Then you can go back to bed and fall asleep," Carney says. This well-studied strategy, called stimulus control, also prevents you from associating your bed with anxiety. Another tip: Set aside time early in the evening to problem solve. Write down your pressing concerns, along with a possible solution for each, a few hours before retiring."
12. Have Your Lunch Delivered
Will preparing lunch for your bridal party stress you out? Get it delivered by your local cafe or some kind friend!
13. Manage Difficult Family Dynamics
Sometimes weddings bring out the worst in family members because they have to be around an ex-partner or someone they don't like for a day, don't cope with stress anyway or tend to get into the alcohol a bit early.
It's imperative to let your photographer know any problematic family dynamics that could impact on photos and make your wedding coordinator aware too."
14. Practise Your Wedding Speech
Too many people stress about their speeches and don't relax until after that is over. If this is potentially the case, time it so yours is at the beginning of your reception. Keep your speech short and give yourself time to practise it out loud to your dog - they generally don't care how many times you recite it to them! Being well prepared will help with your confidence.
15. Accept the Fact That There Is Always Something!
I was chatting to my Mum who has organised four weddings, and I asked for her advice, and she said: "accept the fact there is always something that will go wrong on a wedding day!". So true! There has always been at least one thing that has 'gone wrong' for all the weddings I have photographed, so it's how you manage the situation to how good the day pans out!
Breathe in, breathe out!
Take it in your stride!
Try to see the funny side of it - in 2 years, it will make a great wedding day story!
Accept the fact that little things can go wrong, and don't let them ruin your whole day.
As many of my beautiful clients say on their day - 'I'm marrying the one I love, and that is what matters most'.
Wedding, Family and Product Photographer based in the Adelaide Hills - 0409 995 035 - verity@verityedgecombephotography.com.au - Copyright 2023
Tips For a Relaxed Wedding Day